If you're looking for some quick and easy ways to boost your SEO, then the following guide is just for you.
Even if you've had your business online for a while, this guide can serve as a refresher to give your site a fresh boost of traffic.
If you're just starting online or getting ready to, this article will be a great guide – a shortcut if you will – to boost your SEO and make your online business a search engine favorite.
Now keep in mind, this guide is not an in-depth SEO analysis, but rather a quick-start guide that you can put into action right away and start seeing results.
Step 1: The Need For Speed
The faster your site loads the better your search engine ranking, especially when it comes to Google rankings. One easy tool you can use to test your site's speed is Pingdom. Simply enter your url and click the 'test now" button and Pingdom will analyze and test the load time of that page.
You'll get a report that shows how your site compares to other websites with regards to speed. The report will provide you several numbers but the one you'll want to focus on is "load time."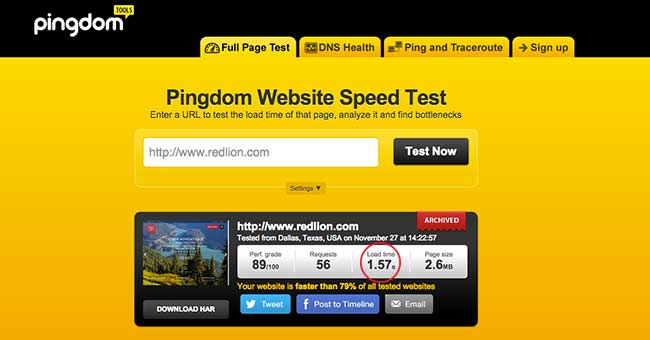 Here's a quick chart to help you determine your next step:
Load time: 0 – 1 seconds – This is good. Keep doing what you're doing.
Load time: 2 -3 seconds – This is okay but consider making some additional adjustments in the near future to reduce load speed further.
Load time: 4 seconds or more – Not good. Consider eliminating or changing elements that might be causing slow load times. Certain plug-ins can be speed killers. Also consider optimizing your images or using a CDN for faster loading.
[alert-announce]A slow site is a no-no. It also means there's room for improvement when it comes to improving your SEO.[/alert-announce]
Step 2: Get Organized and Indexed
An important, yet often overlooked component of SEO, is adding a sitemap to your website. A sitemap tells Google and other search engines about your site's content. It provides valuable "metadata" or information about your website pages which helps your site get discovered.
It's important to point out that we're talking about an XML sitemap to boost your SEO and not an HTML sitemap – two different things. The XML sitemap helps you get discovered on search engines and the html sitemap helps people navigate your site through a visual map of page links.
Here's a cool tool that checks your site for an xml sitemap. All you have to do is enter your url and it's free.
[alert-note]A sitemap is a sign of good SEO. If you don't have one, get one ASAP. If you're on WordPress, there are a few good plug-ins that will help you set one up.[/alert-note]
Step 3: Announce Yourself To The Search Engines
Meta tags are another great way to provide search engines with information about your site. They're especially important in letting the search engine world know what your pages are about.
To check that your meta tags are set up correctly, go to your homepage and right click to get the pop up menu. Click on "view page source" which will bring up your site's coding (which will look something like this):
You want to look for the <title> tag and the <meta name="description"> tag. If both are present with the right content attached, then you're good to go. Otherwise, this will be a good opportunity to further enhance your site's SEO.
[alert-note]These meta tags are two very important components that will help your site stand out from the crowd.[/alert-note]
Step 4: Aim For The Head
If you want to add some knock-out power to your SEO efforts, here's a neat trick that will do just that: H-Tags. This is a great compliment to your meta tags. H-tags themselves are good SEO protocol, but more importantly, their effect on other ranking factors make them that more effective. H-tags will usually contain relevant keywords or page titles.
Just as you would for meta tags, go to your homepage and right click for the "view page source" menu option. Once your page source comes up, you can use the find option to quickly search for the H-Tags. Make sure you have at least an H1 tag. Ideally, you'd also want some H2, H3, and/or H4 tags as well.
[alert-note]The content within H-Tags are usually the first thing visitors see on your site. They also enhance your overall SEO, so make an effort to have the right H-tags present.[/alert-note]
Step 5: It's All About That Content
There's no secret that a site that produces consistent and relevant content will rank very well in search engines. Usually, the best way to do this is with a blog. If you use WordPress as your blogging platform, there are some great SEO plug-ins available to help optimize your content.
Some sites use landing pages or static pages and that's okay. Just compliment those pages with a blog and make sure your visitors can easily find that content from those pages (i.e. a link to your blog or articles).
[alert-note]Consistent, relevant, and updated content is an essential part of SEO. Make content marketing a priority in your SEO efforts. Consider creating a content schedule to help keep you on track.[/alert-note]
Conclusion:
As you can see, increasing your online presence is about using the right combination of strategies  to boost your SEO and get your site discovered. The great thing is these are simple and more importantly, free! So go ahead and use these helpful tips to improve your SEO quickly and easily.
Do you have any other quick and simple ways to improve SEO that other readers can benefit from?